Oxeris enables you to enhance security, localize and manage your mobile assets.

| | |
| --- | --- |
| Oxeris protects your PCs and sensitive data they store against loss or theft. It enables you to remotely manage your devices, regardless of their location. | In case of loss Oxeris enables you to restore your personal data stored on smartphones, tablets, PDA and similar devices. It can also help you to get back your device, or lock it up when it is misplaced. |
Benefits of Oxeris®
Oxeris
was created especially to help you effectively manage your mobile devices, proactively prevent negative impact of data and device theft, and secure asset tracking. Thanks to a wide spectrum of features Oxeris enables you to:
Remotely lock up your devices in case of theft
Maintain hardware and

software

inventory

Recover

and/or

delete

sensitive data from the lost devices
Monitor your devices with a

alerts

and

notices

Oxeris is a cloud solution, so you can access it via a web browser. It means that in practice you can use it wherever you are and have internet connection.
Photos: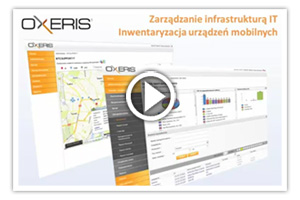 Optimize efficiency
Manage computers and mobile devices centrally
Automate IT processes
Increase the accuracy and quality of resources control
Reduce costs
Optimize existing equipment
Avoid unnecessary purchases
Lower electricity costs
Minimize risk
Recover lost or stolen equipment
Delete remotely sensitive data from missing devices
Control the legality and status of your IT resources
Improve policy and organizational culture
Take care of the organizational culture level
Improve control of business policies
Avoid fines